More vaccine doses heading to Illinois Walgreens stores through federal program. But for CVS, Jewel, Walmart? Not yet. Seguin staff Deb Mahar, right, receives her COVID-19 vaccine during a vaccination clinic for more than 800 individuals, including over 400 persons with intellectual and developmental disabilities and 400 agency staff and family caregivers at the UCP
More vaccine doses heading to Illinois Walgreens stores through federal program. But for CVS, Jewel, Walmart? Not yet.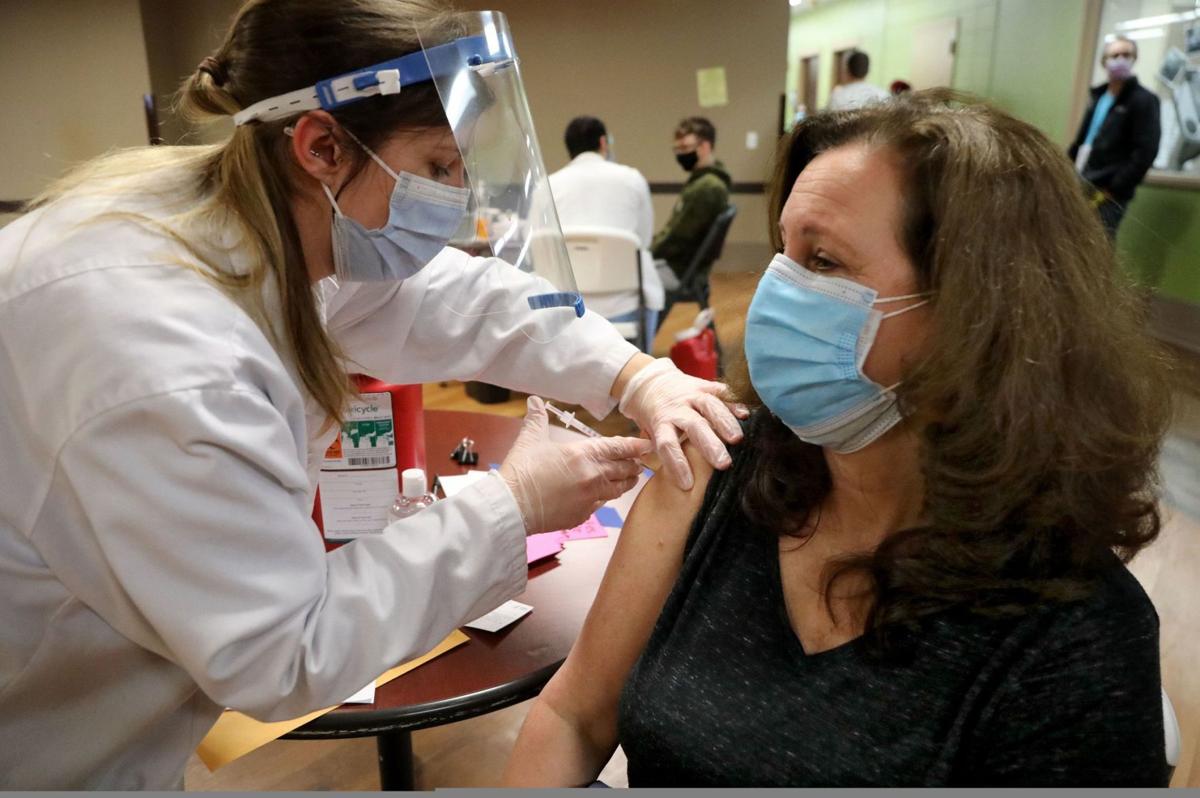 LISA SCHENCKER
Chicago Tribune

CHICAGO — The federal government is sending additional doses of COVID-19 vaccines to pharmacies across the country, but in Illinois, those doses will only be available at Walgreens — not CVS Health, Mariano's, Jewel-Osco or Walmart.
Walgreens expects to begin administering the extra doses Friday, in its Illinois stores in medically underserved and "socially vulnerable" areas. Walgreens anticipates initially receiving about 39,300 doses a week, which will be in addition to the doses it already receives through the Illinois Department of Public Health.
Other retail pharmacy chains in Illinois, including Mariano's, Jewel-Osco and Walmart, are vaccinating people, and have been for weeks, but with doses obtained through health departments, not the federal program.
The extra doses going to Walgreens this week are part of the new federal retail pharmacy program, which the Biden administration announced last week. Nationwide, pharmacies expect to receive about 1 million extra doses this week through the program, with the number likely increasing over time as vaccine supply improves.
The program begins amid frustration in Illinois over demand for vaccines that far outstrips supply, leaving many people spending hours online trying to find appointments. Illinois is now vaccinating people ages 65 and older and front-line essential workers, including teachers and grocery store employees. Gov. J.B. Pritzker also announced Wednesday the state will allow people under 65 with certain health conditions to start receiving vaccines Feb. 25, though Chicago and suburban Cook County will not.
In some states, the federal program marks the beginning of vaccine administrations at CVS stores. CVS stores in 11 states are getting vaccines, but Illinois is not one of them.
Kroger, which owns Mariano's, will get vaccines in seven states through the federal program, and Albertson's, which owns Jewel-Osco, will get them in five states. Walmart will get vaccines in 22 states. None of the doses will go to stores in Illinois.
The Centers for Disease Control and Prevention worked with states to select which pharmacy chains would receive the additional doses during this first phase of the program. They were selected based on the number of stores, ability to reach the people most at risk of getting severely ill with COVID-19 and alignment with a state's existing vaccination plan, according to the CDC.
The Illinois Department of Public Health did not immediately respond to a request Thursday for more information about why Walgreens was selected in Illinois and not other pharmacy chains.
The stores initially selected for the program in each state are just a starting point, and eventually, their stores in every state will administer vaccines, according to the CDC.
In Illinois, Walgreens, Mariano's, Jewel-Osco and Walmart have already been administering vaccine doses for weeks obtained through state and local health departments. Jewel-Osco is vaccinating at 143 of its stores, Mariano's at 31 stores and Walmart at eight, according to the state health department. Costco is not yet vaccinating at its Illinois stores. Walgreens will be vaccinating at 520 stores, including 339 that will now be receiving doses through the federal government.
CVS has not been giving vaccines in its Illinois stores, but starting Friday plans to administer about 80,000 doses at four of its Illinois stores outside the Chicago area. Those doses are not from the federal program but were redirected from long-term care facilities after the federal government overestimated how many doses would be needed in those facilities, Pritzker has said.
Larry Lewis, CVS director of state government affairs, told a state Senate committee Thursday that CVS has been in "constant communication" with the governor's office and Illinois and Chicago public health departments "as we prepare for the rollout of mass vaccinations as more supply becomes available."
In neighboring Indiana, Kroger and Walmart will get vaccines through the federal program, and in Wisconsin, vaccines will go to Walgreens stores.