Missouri and Illinois open floodgates: All adults to be eligible for vaccine in April Gov. Mike Parson takes questions for the media after touring the vaccination clinic on March 4, hosted by BJC HealthCare at Christian Hospital Northeast. Photo by Laurie Skrivan, lskrivan@post-dispatch.com Laurie Skrivan, Post-Dispatch ST. LOUIS — The governors of Illinois and Missouri,
Missouri and Illinois open floodgates: All adults to be eligible for vaccine in April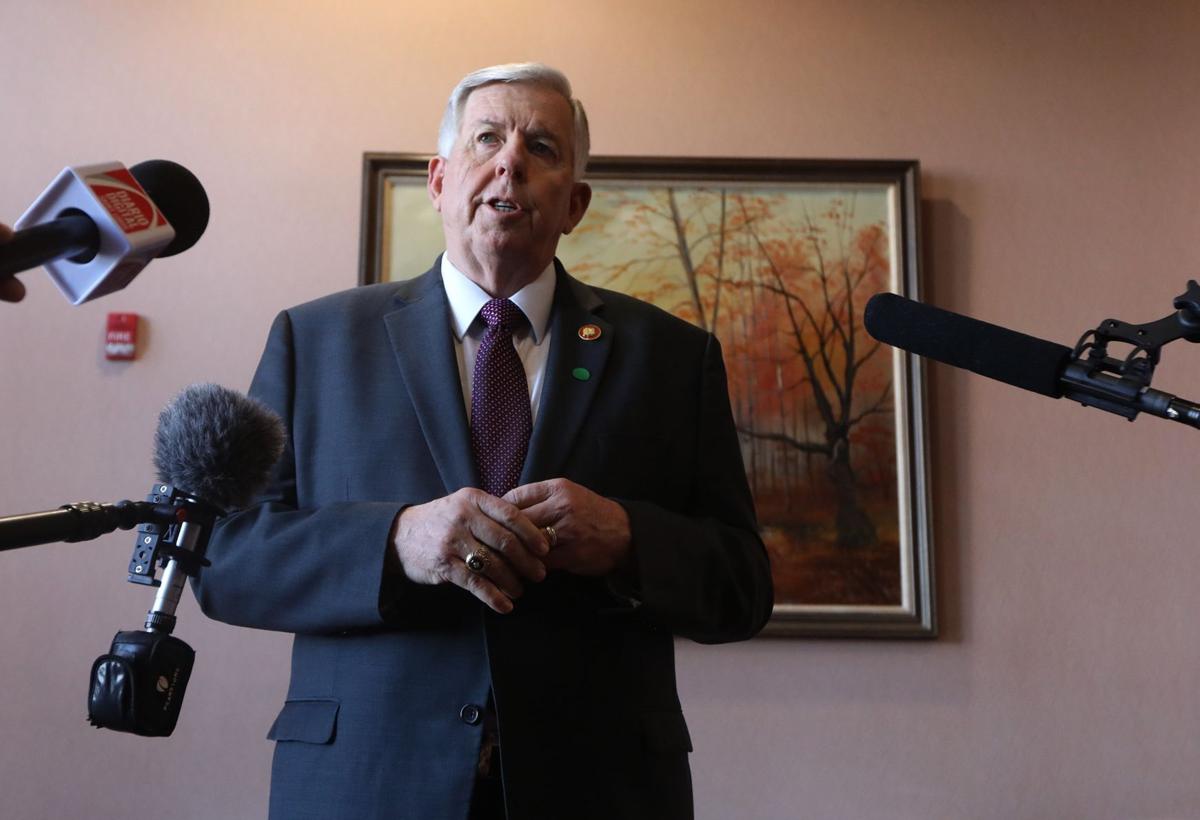 ST. LOUIS — The governors of Illinois and Missouri, anticipating an increase in COVID-19 vaccine supply, on Thursday announced that all adults in their states — representing millions of extra doses — would be eligible for vaccinations by mid-April.
Missouri Gov. Mike Parson's administration said every resident 16 and older will become eligible on April 9. Gov. J.B. Pritzker set Illinois' date for April 12.
"I'm more optimistic today than I have been at any time over the last year," Pritzker said. "It's time to begin to cautiously move toward normalcy."
The announcements come as the U.S. dramatically increases the flow of vaccine to states, and as both Missouri and Illinois ramp up vaccination events, often inoculating thousands per day with help from National Guard troops.
Missouri officials said earlier this week that the state's weekly allocation in early April could surpass 500,000, more than double this week's allotment. Pritzker said Thursday that Illinois' weekly vaccine allocation may surpass 1 million doses in April, compared to 800,000 this week.
Pritzker also announced a plan to gradually roll back restrictions. To do so, 70% of the state's residents age 65 and older must have at least one dose of vaccine — up from 58%, as of Thursday. Case and hospitalization rates also must stay steady or decline over a 28-day period.
Pritzker said that the state's mask mandate will remain in place until the U.S. Centers for Disease Control and Prevention recommends otherwise.
Parson said Missouri would activate Phase 2 of its vaccine distribution plan on March 29, making eligible another 880,000 Missourians, including workers in construction, critical manufacturing and higher education. The state said in this phase it would also focus on racial minorities disproportionately affected by the virus, and homeless people.
Phase 3 is set to start April 9, and add 1.1 million more Missouri residents.
"The federal government has informed us that COVID-19 vaccine allotments to Missouri are projected to increase significantly by the first week of April," Parson said at a news conference Thursday. "Supply projections are subject to change, but it is critical that we start preparing for this potential influx and ensure there is a consistent number of people who are eligible and interested in receiving a vaccine.
About 4.5 million Missourians should be eligible for the shot in total, the state said. An estimated 60% are interested, it added.
Dr. Randall Williams, director of the Department of Health and Senior Services, said the state will need to persuade some residents to get vaccinated.
"Part of opening up these tiers is we anticipate that as we get further out that we will encounter more vaccine hesitancy," Williams said.
The state reported on Thursday that 20.5% or 1.26 million Missourians have received a first dose, including half the state's seniors, age 65 and older. More than 681,000 residents have received a second dose.
Kelli Jones, spokeswoman for Parson, said those under 18 will get the Pfizer vaccine, authorized by the U.S. Food and Drug Administration for those as young as 16. The Johnson & Johnson and Moderna vaccines are authorized for those 18 and older.
An estimated 23.5% of Illinois residents have received a first dose of a vaccine, while about 12.9% of residents are fully vaccinated, according to the state Department of Public Health.
4,000 doses
The state has been ramping up mass vaccination events in the St. Louis region.
In St. Charles on Thursday, the county health department hosted a 4,000-dose event at the Family Arena, expected to be the largest one-day clinic the Missouri National Guard has coordinated so far.
"It's been hard watching how slow it's been going, especially for St. Louis," said Sherri Brown, 60, a Weldon Spring resident who volunteered at the St. Charles event Thursday. "I felt like these big events are going to be what unclogs it."
The county has been holding indoor events for weeks at the arena, for 1,000 to 1,500 vaccinations. Moving outdoors for the first time on Thursday allowed the health department to administer a larger number of doses. At 10 a.m., cars coming from the southwest were lined up for about a mile outside the event.
National Guard members checked attendees' paperwork and directed them through the parking lot. Each person was vaccinated, and then monitored for 15 to 30 minutes for signs of adverse reaction. Volunteers and health department workers, weathering cold temperatures and rain, wove through the lines of cars to administer the vaccines. Others sat at rows of tables inside the arena to enter the information into the state's vaccination records software, ShowMeVax.
The health department, as of Tuesday, had 90,000 people in its vaccine registration list. Of those, 1,900 qualified under Phase 1A, a group that includes patient-facing health care workers, emergency responders, and the residents and staff of long-term care facilities. The county's registry also lists 37,000 individuals who qualify under Phase 1B Tier 2, a group that includes those 65 and older, or with underlying health conditions.
An additional 21,000 people on the county's list became eligible on Monday, when the state opened up vaccinations to Phase 1B Tier 3.
Missouri reported 478 new confirmed cases and 295 new probable cases of COVID-19 on Thursday. The seven-day average of new confirmed cases fell to 398, from 405 the day before, according to a Post-Dispatch analysis. The state also reported six more deaths due to the virus.
Illinois reported 2,325 new cases of COVID-19 on Thursday, up from 1,655 the day before. That pushed the seven-day average of new cases up to 1,669, according to a Post-Dispatch analysis. The state also reported 32 more deaths due to the virus.