Watch now: Illinois lawmakers back bill aimed at protecting pandemic-era telehealth access Rep. Deb Conroy, D-Villa Park, asks questions during debate of SB 671, a bill extending emergency rules on telehealth provisions related to the COVID-19 pandemic, during an extended session of the Illinois House of Representatives at the Bank of Springfield Center in Springfield
Watch now: Illinois lawmakers back bill aimed at protecting pandemic-era telehealth access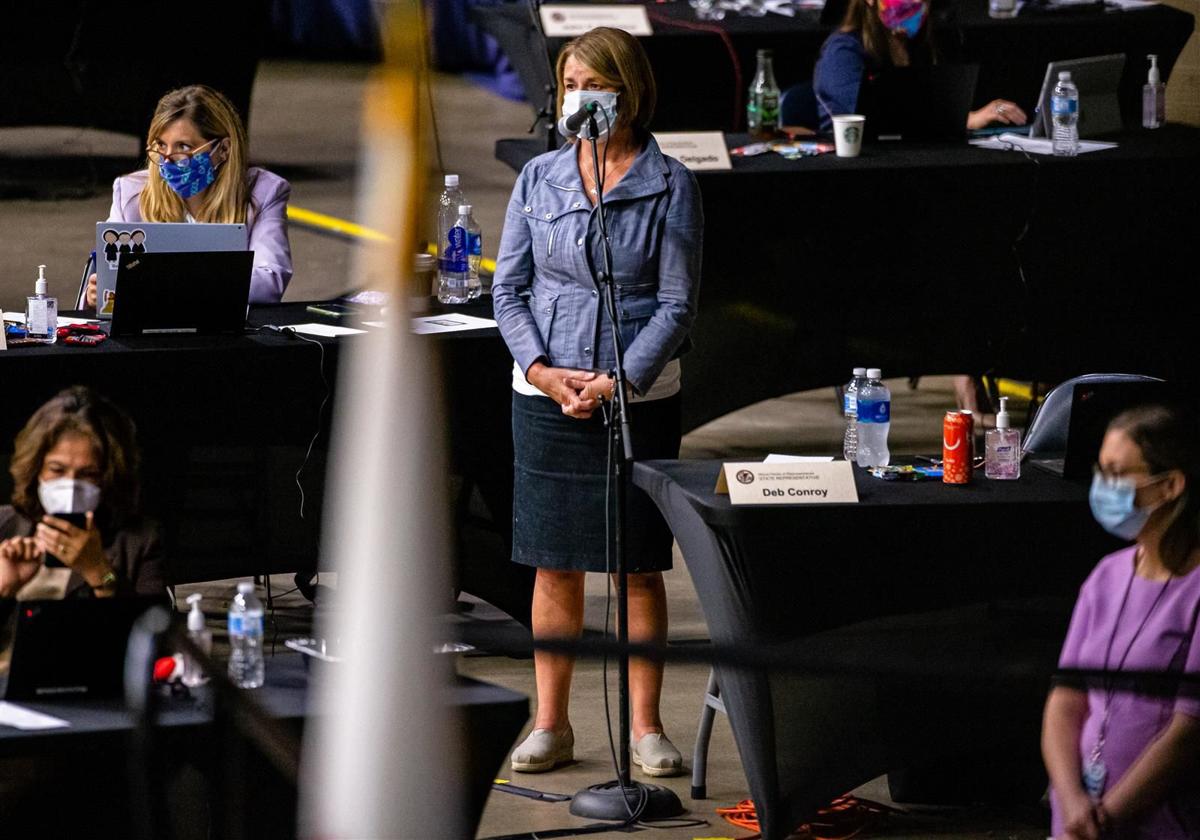 LYNDSAY JONES

SPRINGFIELD — As an expiration date for the federal government's COVID-19 public health emergency declaration approaches, some Illinois lawmakers are backing a bill aimed at protecting telehealth services beyond the COVID-19 pandemic. 
Following the U.S. Department of Health and Human Services' declaration of coronavirus as a public health emergency on Jan. 31, 2020, Congress and the Centers for Medicare and Medicaid Services expanded coverage of remote medical visit options, a change also seen at state and private-payer levels. 
Results came quickly: During the last week of March 2020, the Centers for Disease Control and Prevention noted a 154% increase in remote medical visits compared to the same week in 2019. 
The CDC attributed the increase to "improved provider payments for telehealth, allowance for providers to serve out-of-state patients, authorization for multiple types of providers to offer telehealth services, reduced or waived cost-sharing for patients, and permission for federally qualified health centers or rural health clinics to offer telehealth services." 
In Illinois, a bipartisan group of 42 state representatives are sponsoring HB 3498, a bill that would require insurance companies to fairly reimburse health care providers that offer telehealth services. 
"Prior to the pandemic, a lot of insurers didn't cover telehealth — or if they did cover it, they reimbursed it at a reduced rate," said Danny Chun, a spokesman for the Coalition to Protect Telehealth, a 30-member group that's been lobbying for increased telehealth access since last year. Healthcare providers "have to have some certainty that the services will be covered and paid for, if you invest in infrastructure and staff. If you have certainty that there will be appropriate and adequate reimbursement, providers will be able to make the investments."
Not that all health care providers weren't already doing that: Senior Vice President of OSF digital health Jennifer Junis, who oversees OSF OnCall, said the system had a five-year "roadmap" for expanding telehealth services before coronavirus hit the U.S. in earnest. Once it hit, Junis said, the system took the five-year plan and "executed it in about five weeks." 
OSF OnCall, Junis' purview, offers a range of services, from video visits with medical professionals to online, self-guided classes about managing anxiety and depression to online symptom triage services.
"We went from doing about 1% of our total visits across our health system through telehealth to over 50% of our business being through telehealth," she said. "I think what the pandemic did was give us a sense of urgency that we needed to stand these things up."
While patients may be seeing the value of these services, the fact remains that a dollar value is attached to these services and, with no law currently in-place, insurance companies aren't formally required to reimburse fairly for telehealth services. 
"The bigger issue, especially in Illinois has been around the fact that reimbursement is not consistent across the board,"  Dr. Gurpreet Mander, HSHS Illinois chief physician executive and executive director of the Illinois Telehealth Network said. "I think the fact that the one of the biggest barriers for telehealth has been reimbursement for providers and facilities, and I think if that barrier is removed … we'll be in a much better place." 
That HB 3498 made it out of the Healthcare Availability and Accessibility Committee indicates some legislators have gotten the message; a similar bill with comparable goals died in committee in May 2020.  
At the center of a wrongful death lawsuit is the question of whether a federal coronavirus emergency declaration means a McLean County nursing home can't be sued. A lawyer for the plaintiff says the case could set a precedent for COVID-related legal cases.
"Over the last year, we've seen significant, rapid development in telehealth technology," bill sponsor Rep. Deb Conroy, D-Villa Park, said in a statement. "Initially spurred by the COVID-19 pandemic, both state and federal government enacted policy changes to make telehealth services easier to access and, as a result, health care providers, professionals and patients have seen that virtual care preserves quality and safety, while also accommodating patients' individual needs. 
"Illinois should support this continued investment in telehealth and the important role it will play in modernizing healthcare delivery and empowering patients."
The bill, too, isn't just about reimbursements: It seeks also to prohibit restrictions on telehealth by location, meaning patients can be treated at their home and can see a provider of their choosing. It also ensures that patients won't be required to use telehealth for services, leaving the option for an in-person visit on the table.
"I think the pandemic has opened up the legislators to being a little more receptive of passing laws and taking actions which would support the adoption of telehealth, because, ultimately, it improves access. That's what you're looking at: You need to provide access, especially in underprivileged underserved and rural areas," Mander said. 
The Pantagraph requested comment from Blue Cross Blue Shield, Health Alliance and Cigna, but those requests were not returned. Carle Health declined to comment for this story, citing pending legislation. 
Chun said members of the House of Representatives will take a vote on the bill following a return to session on April 13. 
What to know about the coronavirus relief funding coming your way
LIMITED SPENDING
BILL PAYING
ERASING DEBT
SAVING