Rep. Davis: Biden infrastructure plan to get 'zero support' from GOP as is U.S. Rep. Rodney Davis is interviewed in his Decatur office in this Jan. 12 file photo. CLAY JACKSON, HERALD & REVIEW BRENDEN MOORE U.S. Rep. Rodney Davis talks infrastructure at the Decatur Regional Chamber of Commerce business breakfast on April 7, 2021.
Rep. Davis: Biden infrastructure plan to get 'zero support' from GOP as is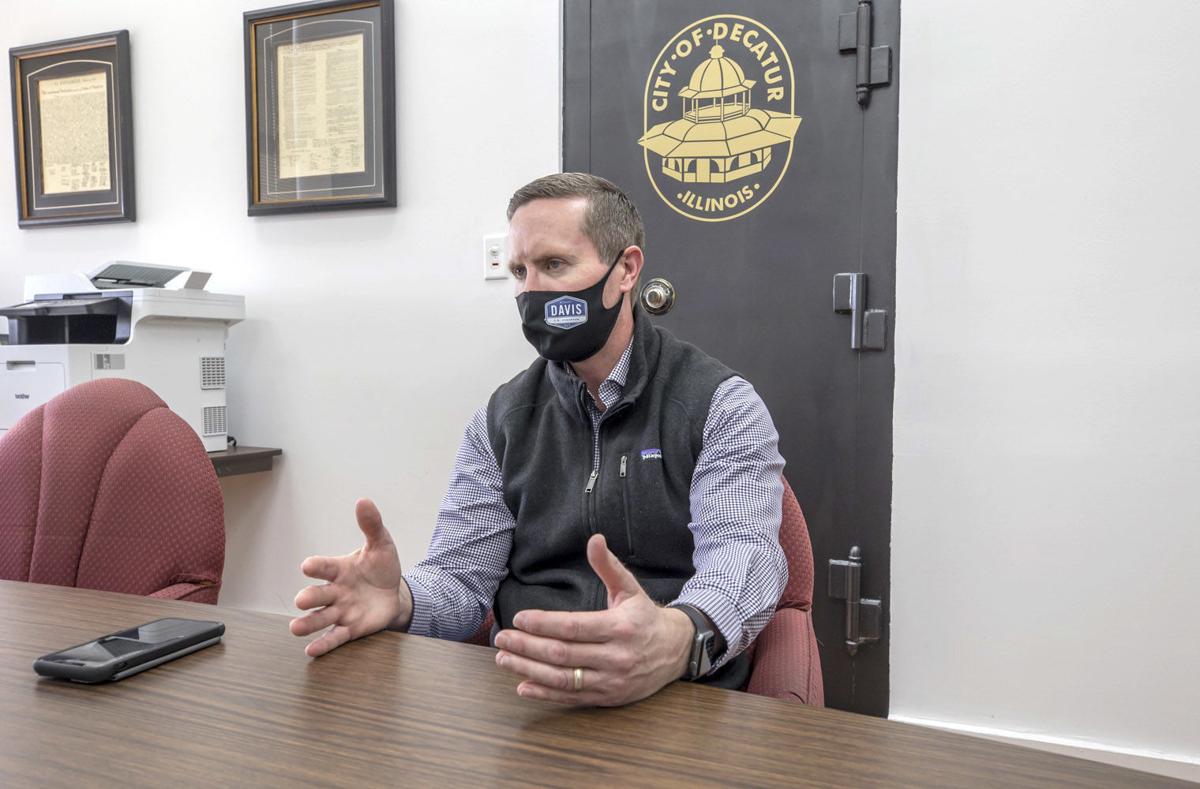 BRENDEN MOORE

DECATUR — U.S. Rep. Rodney Davis, R-Taylorville, said Wednesday that President Joe Biden's massive $2.3 trillion infrastructure plan would get "zero support" from Republican lawmakers should the president attempt to pass it through the budget reconciliation process. 
Davis also addressed the once-a-decade redistricting process, which could endanger his future as a member of Congress depending upon how Democrats in the General Assembly, who have complete control over the process, lay out the new district lines. 
Speaking before a Decatur Regional Chamber of Commerce event at the Decatur Club on Wednesday, Davis said more spending on infrastructure like roads, bridges and waterways was necessary. 
However, he criticized the Biden Administration's proposal as "a new Green Deal policy-laden bill under a catchy title of infrastructure," saying it goes beyond the scope of traditional infrastructure and that it was "woefully underfunded on what we consider true infrastructure."
There is no disagreement from Democrats that the proposal reimagines the meaning of infrastructure. 
In fact, the single largest piece of Biden's proposal is a $400 billion plan to expand access to caregiving for the elderly and disabled. Another nontraditional infrastructure item includes spending $174 billion to boost the electric vehicle market.
About $115 billion in Biden's plan is dedicated to roads and bridges, $85 billion to public transportation, $80 billion to railways, $25 billion to airports and $17 billion for inland ports and waterways. 
Though Biden said he would prefer that an infrastructure package be bipartisan, many expect the legislation to go through the budget reconciliation process. This would allow Democrats, who control an evenly-divided U.S. Senate with Vice President Kamala Harris' tiebreaking vote, to advance the legislation with 51 votes instead of the 60 needed for most bills. 
However, Davis said use of that process would only make the legislation more partisan and kill any chance of a package receiving Republican votes. 
PHOTOS: U.S. Rep. Rodney Davis
gabbys-law-080520-5.jpg (copy)
gabbys-law-080520-6.jpg
Rodney_Davis-Macon-062420-005.JPG
U.S. Rep. Rodney Davis, R-Taylorville
082119-blm-loc-1chamber
Caulkins_Dan 2 7.29.19.JPG
Davis_Rodney 2 07.29.19.JPG
DAVIS
Rodney Davis at CIRA III
Rodney Davis at CIRA I
Election 2018-Illinois-Congress-Pence
103018-blm-loc-2davisdebate
092514-blm-loc-1davis
Rodney Davis Press Conference
"It takes our ability to negotiate on what we think is best for our districts when they take a partisan route," Davis said. "We implore the administration not to do that."
"It's going to take a discussion where we want to talk about how we get (U.S. Route 51) done, we want to talk about how we get Brush College Road, we want to talk about the other projects that are important to this area," he said. "But instead, what's going to happen is one side in Washington is going to negotiate with each other. And the bill is going to get costlier. And (there's going to be) more regulatory intervention."
To partially pay for the plan, the Biden Administration has proposed raising the corporate tax rate from 21% to 28%, which is still lower than the 35% prior to the tax cuts signed into law by former President Donald Trump in 2017.
"The 'pay-fors' that the administration is proposing is the worst possible thing that can happen as our small businesses come out of this pandemic," Davis said.
Davis, who blamed Democratic Congressional leadership for the apparent turn to reconciliation, held out hope that Biden would reverse course. But, he said it will remain a partisan fight for now. 
"Infrastructure right now is about to become entertainment value, and that's very disappointing to me because it's too important of an issue to get caught up in what I would consider the polar ends of the political spectrum that we see right now in our country," Davis said.
Also at Wednesday's event, Davis said he was "begging and pleading" with Democrats in the General Assembly to draw a fair map that keeps Macon County intact. 
Davis' district, which includes portions of Bloomington-Normal, Champaign-Urbana, Metro East, Springfield and the rural areas in between, currently includes all of Macon County.
He said he is "not concerned at all" at what Democrats might do to his district, noting that the party has tried unsuccessfully to defeat him each election cycle since 2012.
"If you look at my district, you can see there's a distinct political reason why there are four public universities in my district, four private universities in my district and we touch eight community college districts," Davis said, noting precision in which his district was crafted. 
But with Illinois expected to lose a congressional seat following the 2020 U.S. Census and with the opportunity to consolidate more Democratic-leaning areas in Metro East, Democrats might have their best chance to knock out Davis.
"They understand who I am and they understand that we understand that they have complete control over the redistricting process," Davis said. "I can't worry about that. We'll let the chips fall where they may and figure out what the next step is."
U.S. Rep Rodney Davis
PHOTOS: U.S. Rep. Rodney Davis
gabbys-law-080520-5.jpg (copy)
gabbys-law-080520-6.jpg
Rodney_Davis-Macon-062420-005.JPG
U.S. Rep. Rodney Davis, R-Taylorville
082119-blm-loc-1chamber
Caulkins_Dan 2 7.29.19.JPG
Davis_Rodney 2 07.29.19.JPG
DAVIS
Rodney Davis at CIRA III
Rodney Davis at CIRA I
Election 2018-Illinois-Congress-Pence
103018-blm-loc-2davisdebate
092514-blm-loc-1davis
Rodney Davis Press Conference