Illinois state budget, new district maps and ethics reform are among things to watch for as spring session nears end The Illinois State Capitol building on May 20, 2020, in Springfield. ERIN HOOLEY, CHICAGO TRIBUNE RICK PEARSON Chicago Tribune A year after most legislative initiatives were sidetracked by the COVID-19 pandemic, Illinois lawmakers are approaching
Illinois state budget, new district maps and ethics reform are among things to watch for as spring session nears end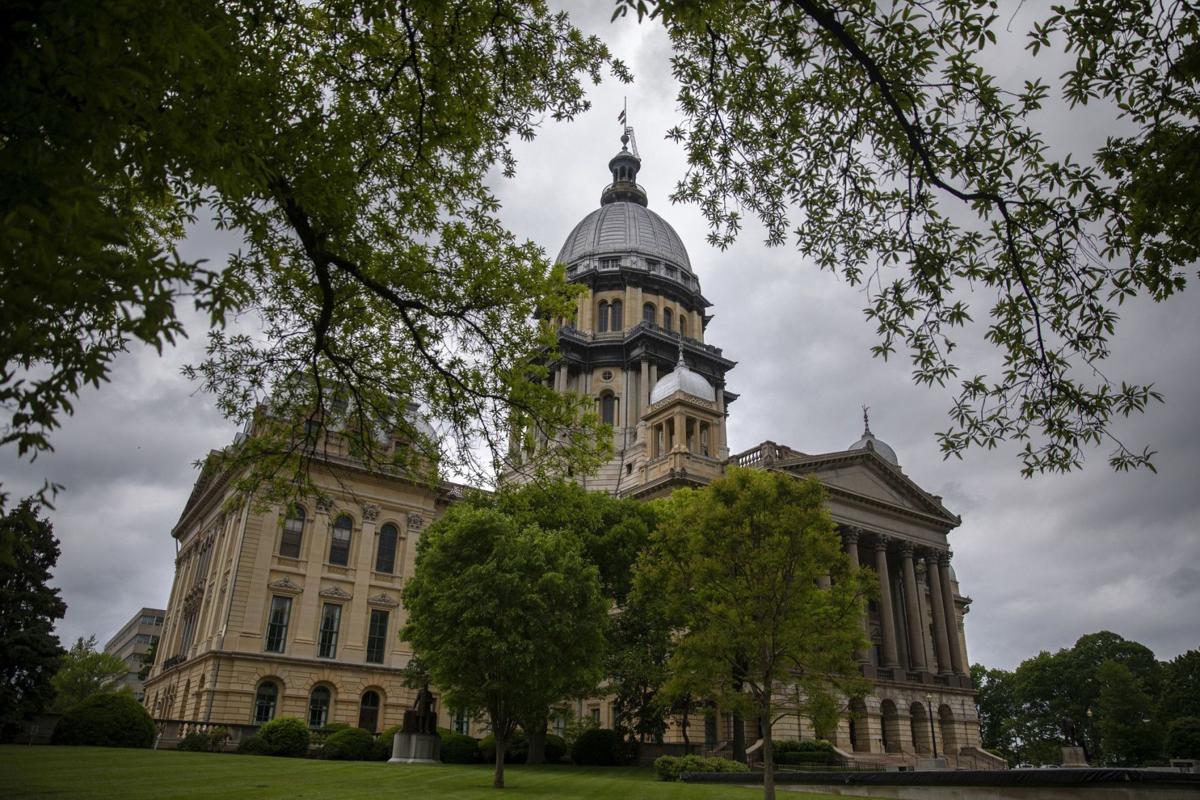 RICK PEARSON
Chicago Tribune

A year after most legislative initiatives were sidetracked by the COVID-19 pandemic, Illinois lawmakers are approaching the end of this year's spring session facing a backlog of significant and as yet unresolved issues.
Also on the table are efforts to move forward on clean energy and to make electric utilities more accountable in the wake of the Commonwealth Edison scandal, along with a push for legislative ethics reform.
There has been discussion about modifying a policing reform law that is set to take effect in July in the face of scorn from the law enforcement community. And once again there is debate over an elected Chicago school board. Add to all that something new this year, arguments about how to spend more than $8 billion in federal coronavirus relief money.
Despite pandemic masking and testing requirements still in place inside the Illinois statehouse, the jumble of the legislature's last-minute agenda in some ways represents a return to normalcy for a General Assembly where controversial issues are put off until close to the closing bell.
"We're almost there. We're closing in on the final week of session but we still have a lot to do," said state Rep. Elizabeth Hernandez, a Cicero Democrat who is an assistant House majority leader.
Redistricting
Redistricting, the once-every-10-year process to redraw the state's political boundaries to conform with population changes, has added another level of complication to this year's session.
Delays in census results caused by the pandemic left Democrats, who hold a super majority in both legislative chambers, using more general survey estimates rather than actual hard census data to draw maps to meet a June 30 constitutional deadline. Failure to meet the deadline sets the stage for a lottery that would give Republicans a 50-50 chance to draw the legislative maps for the next decade.
On Friday night, Democrats released boundaries for the118 House and 59 Senate districts, but the maps lacked specified streets and municipalities.
Though Democrats had promised there would be plenty of time for the public to review their work, there is now little time for that to happen. Democrats have scheduled four hearings over two days, Tuesday and Wednesday, with a goal of approving the new boundary lines by May 31.
Democrats hold a 73-45 majority in the House and 41-18 advantage in the Senate based on maps they drew a decade ago, so Republicans are on the outside of the process, looking in.
But mapmaking could play into other end-of-session issues.
Democratic leaders are trying to satisfy their members in the mapmaking process by giving them the most vote-friendly territory possible. But even in an increasingly blue-trending state, making all Democrats happy is a tall order, and there is a risk of losing votes on other issues from members who aren't pleased with their new districts. That could particularly be true for newer suburban lawmakers representing what had been traditionally GOP areas.
State budget and federal pandemic relief
The annual budget negotiations in some ways are being overshadowed by discussions of how to spend $8.1 billion in federal coronavirus relief the state is receiving from President Joe Biden's American Rescue Plan.
There was broad consensus that the state should use the money to repay the outstanding $2 billion balance on $3.2 billion borrowed from a special Federal Reserve program to plug holes in the last two budgets. But the Treasury Department's preliminary rules prohibited states from using the money to pay down debt.
On Thursday, Pritzker and Democratic House and Senate leaders as well as Comptroller Susana Mendoza agreed on a plan to use state money to pay off the Fed loan.
Pritzker credited factors including the state's investments in small businesses and child care providers for stronger than expected revenues. He said the improved state economic performance coupled with effective cash management will allow the state to pay down the outstanding federal debt within the next budget year rather than December 2023 as scheduled, saving $100 million in interest.
Pritzker and some lawmakers in both parties have cautioned against using the federal COVID relief money to set up programs that would create an ongoing expense for the cash-strapped state. A possible one-time use being discussed is replenishing the pandemic-depleted unemployment insurance trust fund. Some want to take more time in deciding how to use the money, which can be spent over several years.
House Majority Leader Greg Harris, a lead Democratic budget negotiator, said Thursday that budget teams are looking at two separate paths to deal with the $1.3 billion deficit. One is spending cuts, the other is following Pritzker's proposal to raise $932 million in new revenue by making a series of changes to business tax policies. Those tax changes are opposed by Republicans and do not have universal Democratic backing.
Harris indicated a combination of cuts and new revenue was the likely conclusion. Choosing only to make cuts to close the gap means "nothing is left unscathed — education will be cut, colleges and universities will be cut, severe cuts to our human services. It's a very bad scenario."
Energy and ethics
Amid an ongoing federal corruption investigation, the intertwined issues of government lobbying and ethics laws and state energy policy are marquee topics for the spring session.
Last summer, ComEd paid a $200 million fine and admitted to federal prosecutors that it gave contracts and jobs to allies of former House Speaker Michael Madigan in an effort to win his favor on legislation, including a 2016 bill that provided major subsidies for two nuclear plants.
The utility's parent company, Exelon, is back this year again looking for help. The company has threatened to shut down the Byron and Dresden nuclear plants if it doesn't get hundreds of millions of dollars in additional annual assistance from Springfield.
The move creates a bind for Democrats, who are wary of appearing to do the company's bidding but also facing pressure from their labor union allies to preserve jobs at the plants.
Pritzker has put forth his own proposal, which pairs more limited subsidies with what he describes as strong ethics and accountability provisions. The plan also calls for the state to get 100% of its power from carbon-free sources by 2050 and aims to ramp up electrical vehicle infrastructure.
But the Pritzker administration has yet to say what the package would cost ComEd customers and the state's other electric utilities, and negotiations among the governor's office, lawmakers, the utilities and various other interests are ongoing.
Exelon has pushed for subsidies for all four of its nuclear plants that didn't receive assistance in a 2016 legislative package, a position that's in line with a rival energy bill back by the company's allies in organized labor.
"Exelon must move closer to where the General Assembly is on this and to where the package is that I put forward to try to bring the parties together for us to end up with a solid energy package … that does well by ratepayers," Pritzker said Wednesday.
The governor also has called for an overhaul of state ethics laws but recently has played up the utility accountability provisions in his energy proposal when asked about the progress of reform in Springfield.
House Republican leader Jim Durkin of Western Springs said there are necessary changes that need to happen outside of the debate over energy policy, such as banning legislators from working as lobbyists at other levels of government and giving more independence to the General Assembly's watchdog.
"There's no surety of whether we're going to even get an energy bill done by the end of the month," Durkin said.
The issues at hand have been discussed for close to two years, since federal authorities raided the Capitol office of then-Sen. Martin Sandoval in September 2019 and arrested then-state Rep. Luis Arroyo on a bribery charge about a month later, Durkin said.
"I don't know what else it will take for (Democrats) to get off the dime on easy issues," he said.
Senate Democrats introduced a broad ethics overhaul last month, but it was greeted with skepticism by Republicans, good-government groups and Legislative Inspector General Carol Pope, and it hasn't advanced out of committee.
The bill's sponsor, Sen. Ann Gillespie of Arlington Heights, did not respond to requests for comment. House Democrats, meanwhile, have said they're waiting for the Senate package.
Elected Chicago School Board
Of the state's more than 800 school districts, Chicago is the only one without an elected school board. That's the result of legislation from 1995 — backed by then-Republican controlled Springfield — that turned the schools over to then-Mayor Richard M. Daley and a mayoral appointed school board.
Efforts to revert to an elected school board have been debated for years as an attempt to provide more parental and neighborhood input and to counter a history of school closures. But legislation has been sidelined by previous mayors largely due to fears of the Chicago Teachers Union's power and influence over an elected panel.
Mayor Lori Lightfoot campaigned in support of an elected school board but has since offered support for a hybrid system that would allow her to appoint five members of a seven-member board, with the other two elected, to take effect in 2026. In 2028, the board would expand to 11 seats, eight appointed and three elected. It could then revert to a seven-member board four years later.
On the other side are proponents of an all-elected school board with 21 members, a concept backed by progressive Democrats. The legislature's Latino Caucus backs a fully elected school board but also wants companion legislation that would allow undocumented immigrants the right to vote in board elections as well as to serve on Local School Councils.
Also weighing in against a fully elected school board is the group Stand for Children, a group funded by wealthy business interests that in the past has sought to curb the power of the CTU.
Senate President Don Harmon, an Oak Park Democrat, has backed a fully elected school board, but is trying to broker a compromise with a transition phase of a hybrid appointed-elected model before shifting to an all-elected panel.
Longtime elected-board supporter state Sen. Rob Martwick, D-Chicago, said Harmon has committed to passage of a bill that would ultimately result in a fully elected school board.
"The president has suggested his condition for passage is that there is a period of transition that makes sure the transition is smooth and will not negatively impact student outcomes," Martwick said. "We're still working to finalize what that transition period is."
Law enforcement reform
Negotiations have been ongoing since lawmakers in January passed and Pritzker a month later signed landmark legislation that made sweeping changes in the criminal justice and policing system.
Provisions of the new law, a major plank of the Illinois Legislative Black Caucus social justice platform, included a ban on police chokeholds, a requirement that police wear body cameras by 2025 and expanded training on use of force and crisis intervention. It also allows for anonymous police misconduct complaints.
Law enforcement groups were nearly united in their opposition to some aspects of the policing changes in the measure, and supporters said they were willing to make changes to prevent unintended consequences for law enforcement. The Illinois Law Enforcement Coalition, a group representing several police unions, has been in negotiations with lawmakers.
The coalition has composed a lengthy checklist of changes, which include provisions that anonymous complaints of police misconduct be supported by objective and verifiable evidence. The coalition also wants to allow prosecution of people who make false statements in alleging police misconduct.
The coalition also recommends changes in some use-of-force prohibitions, noting the law is inconsistent with accepted police training procedures in some circumstances. It also proposed that in pattern-or-practice investigations of a police force, it must focus on systemic police misconduct rather than isolated cases of wrongdoing and focus on the law enforcement agency rather than on individual officers.
Because of the high-stakes nature of the original law's passage, some lawmakers privately questioned whether the General Assembly will consider follow up legislation requested by law enforcement.