Gov. J.B. Pritzker signs House Bill 3922 on Wednesday, June 16, 2021 at the Abraham Lincoln Presidential Library and Museum in Springfield. The new law makes Juneteenth an official state holiday. (WTTW News via the Governor's Office) Illinois has a new official state holiday. Juneteenth commemorates the day in 1865 when all enslaved people in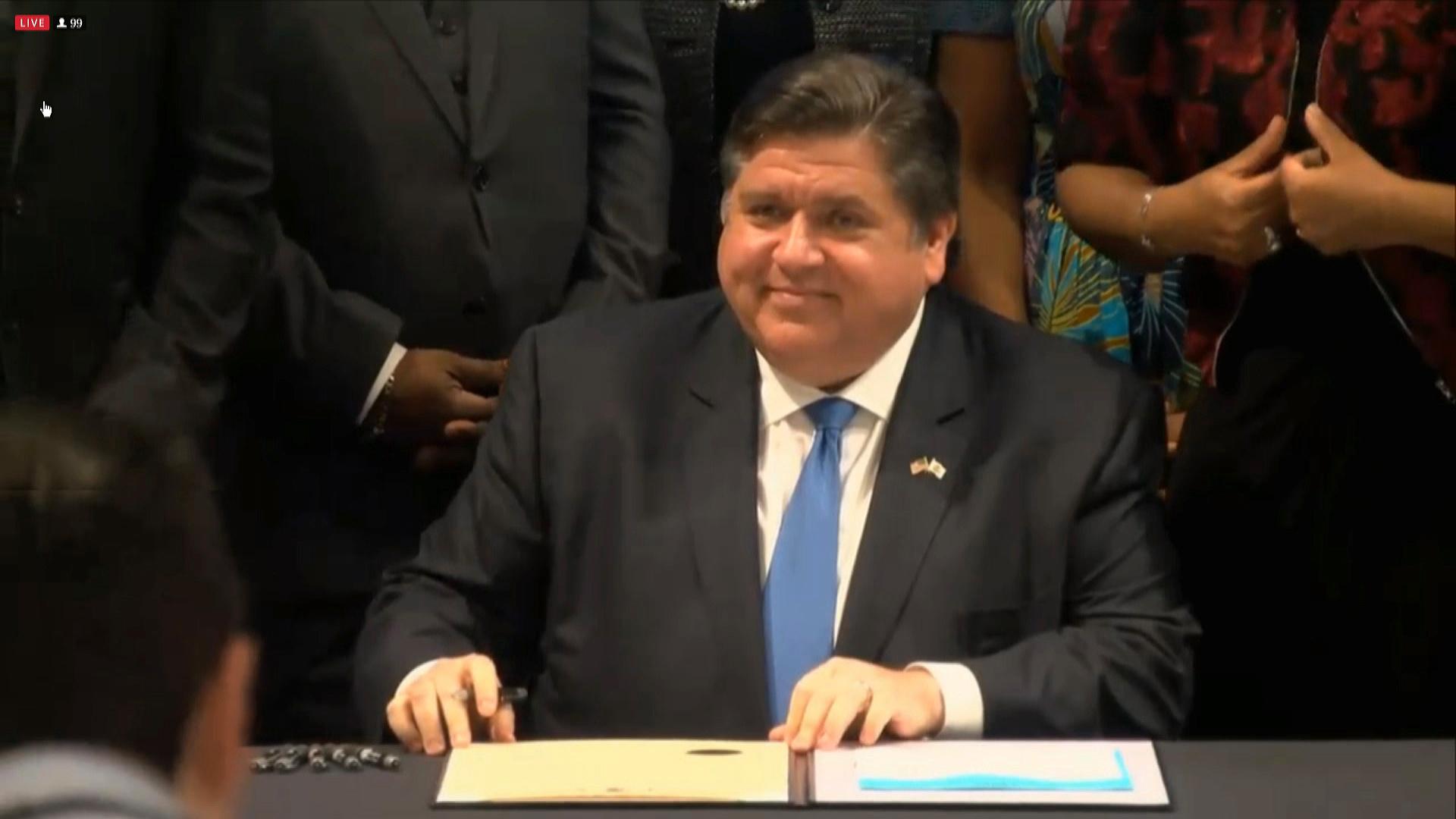 Gov. J.B. Pritzker signs House Bill 3922 on Wednesday, June 16, 2021 at the Abraham Lincoln Presidential Library and Museum in Springfield. The new law makes Juneteenth an official state holiday. (WTTW News via the Governor's Office)

Illinois has a new official state holiday.
Juneteenth commemorates the day in 1865 when all enslaved people in America were freed, two years after slavery was outlawed in accordance with the Emancipation Proclamation.
"With this new law no longer can a child grow up in Illinois without learning about Juneteenth in school," Gov. J.B. Pritzker said. "With this change the people of Illinois will have a day to reflect on how the freedom that we celebrate just two weeks later, on the fourth of July, was delayed to Black Americans and in many ways is delayed still. I urge all Americans to find some time to learn more about the history of Juneteenth, about Black Codes, about the Springfield Race Riot and the founding of the NAACP and the reasons why our beloved dream of freedom and opportunity for all is not yet truly fully realized."
Juneteenth, which is celebrated each year on June 19, officially becomes a holiday in Illinois starting in 2022.
The governor said Illinois will mark the holiday Saturday by lowering all government flags at half-staff and raising a Juneteenth flag at the Illinois capitol.
Pritzker signed the law (House Bill 3922) on Wednesday at the Abraham Lincoln Presidential Library and Museum in Springfield, where a rare copy of the Emancipation Proclamation signed by President Abraham Lincoln is currently on display.
"The words inscribed in Lincoln's proclamation intended to mean that Black women and men and children whose blood, tears and enslavement were shed to help build this nation should finally be freed from bondage. President Lincoln meant every man, woman and child who had been forced to work in a field under awful conditions, every mother forced to hand over her children into another generation of slavery, every person whose labor was stolen to enrich a white master," Pritzker said. 
Earlier this month, Christina Shutt took over as the Lincoln museum's first Black director.
After growing awareness of racial injustice brought about by the murder of George Floyd by a Minneapolis police officer, various private companies have given employees a day off in observance of Juneteenth.
While the new law makes Juneteenth National Freedom Day a "legal holiday," it does not require corporations or banks to close for it.
State agencies, however, will close and state employees will get the day off. Schools will also close in observance of the holiday.
Unlike other legal holidays, if June 19 falls on a weekend, Illinois will not make the prior Friday or following Monday a paid holiday.
Given that, the first time Illinois state employees will get paid time off for Juneteenth will be in 2023.
Chicago is also on the path to making Juneteenth an official holiday, and the U.S. Senate on Tuesday approved a bill establishing Juneteenth National Independence Day as a federal legal public holiday.
Follow Amanda Vinicky on Twitter: @AmandaVinicky
---