McHenry Co.  (ECWd) – The Village Municipal Code of Prairie Grove has issued tickets to a local business in relation to their display of the American Flag, as reported here by the McHenry County Blog.  In reviewing the Village Ordinances, a few things jumped out, some of which we will address in this article while
McHenry Co.  (ECWd) –
The Village Municipal Code of Prairie Grove has issued tickets to a local business in relation to their display of the American Flag, as reported here by the McHenry County Blog.  In reviewing the Village Ordinances, a few things jumped out, some of which we will address in this article while we save the best for last!
Who knew citizens and businesses who choose to fly our American Flag in the Village of Prarie Grove must comply with the village ordinance for "Sign Regulations"?
Who knew citizens and businesses who choose to fly our American Flag in the Village of Prarie Grove must obtain a permit to do so?
If you ask "do you need a permit to fly the US Flag", the answer would be no, according to the ordinance, but if you do so without getting a permit for the flagpole or staff which the flag is located you are in violation of the Village Sign regulation.
2409(A)1 -The official flag of the United States of America shall not itself be the

subject of a specific sign permit; rather these regulations are designed to

control the use of permanent flagpoles or staff upon which the fla

g is located

and the relationship of the flag to the flagpole or

staff.
As if that is not enough to raise concern, keep reading.

2409 (A)(3) – For the purposes of this Chapter, the display of official flags by any unit of government shall not be deemed public signs, and all units of government shall comply with the flagpole and flag relationship regulations of this Section.
So if a citizen or business display's an official flag, such as the American Flag, is it deemed a public sign?  The way it's written, units of governments who display an official flag will not have those flags deemed public signs.
When did the American Flag become a "sign"?
Considering a "public sign" is defined in the ordinance and it does not include official flags,  we wonder what attorney got paid to put this ordinance together.
"Public sign: Any sign required and erected by governmental bodies or specifically authorized for a public purpose by any law, statute, Chapter, or other official action. Such signs shall include, but not be limited to: traffic control signs; parking control signs; legal notices; railroad crossing signs; warning, danger and temporary emergency signs; street name signs; identification of public sites and facilities or of institutions; announcements of community events as designated by the governmental body; and the like."
The McHenry County business was ticketed under two provisions in the sign regulation, 2409A4(a) and 2409A4(d)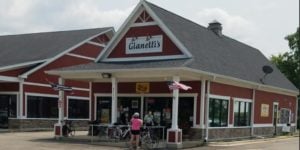 24.09A4(a) – Flags shall be displayed only on permanent flagpoles or staffs

de

signed and constructed specifically and exclusively for flag dis

play.

24.09A4(d) –

Flagpoles shall be set back a minimum of 15 feet from the property

line.
When flying the American Flag becomes a legal quagmire for people to sift through I think most would agree it's time for a new Village Board.
Check back for the follow-up article that will expose major problems the Village is going to face on this matter.