Shelby Co. (ECWd) – The Shelby County Board met last night and once again it appears the circus acts have grown. Board Member Lynn Williams During a very brief and unproductive discussion about the $34,297.01 in improperly obtained insurance benefits, deemed as fraud by the County Health Benefit Plan, Lynn Williams makes a false statement
Shelby Co. (ECWd) –
The Shelby County Board met last night and once again it appears the circus acts have grown.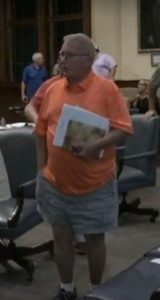 During a very brief and unproductive discussion about the $34,297.01 in improperly obtained insurance benefits, deemed as fraud by the County Health Benefit Plan, Lynn Williams makes a false statement in what appears to be an effort to personally attack the County Treasurer and blame her for representations never made by her.
Rather than actually listening to what the treasurer was saying, or reading the documents that deemed the insurance issue fraud, Williams goes to great lengths to berate the treasurer with questions, and then falsely asserts she was the one who used the term fraud.
While the state's attorney took the time early on in the meeting to caution public commenters from making misrepresentations, she sat silent while Williams did just that.
Where did the term fraud really come from Mr. Williams?
Since he refused to listen to what the treasurer was telling him, maybe he should read the County Health Benefit Plan, specifically page 107, and then apply that information to the Keith Petard insurance scandal that cost the taxpayers $34,297.01.
"Fraud
Under this Plan, coverage may be retroactively canceled or terminated (rescinded) if a Participant acts fraudulently or intentionally makes material misrepresentations of fact. It is a Participant's responsibility to provide accurate information and to make accurate and truthful statements, including information and statements regarding family status, age, relationships, etc. It is also a Participant's responsibility to update previously provided information and statements. Failure to do so may result in coverage of Participants being canceled, and such cancellation may be retroactive.
If a Participant, or any other entity, submits or attempts to submit a claim for or on behalf of a person who is not a Participant of the Plan; submits a claim for services or supplies not rendered; provides false or misleading information in connection with enrollment in the Plan; or provides any false or misleading information to the Plan as it relates to any element of its administration; that shall be deemed to be fraud. If a Participant is aware of any instance of fraud, and fails to bring that fraud to the Plan Administrator's attention, that shall also be deemed to be fraud. Fraud will result in immediate termination of all coverage under this Plan for the Participant and their entire Family Unit of which the Participant is a member."
Petard's plan was retroactively terminated due to his false information in connection with the enrollment in the plan.  He continually misinformed the county with a claim he was not enrolled in Medicare when the truth of the matter he was.  According to the County Health Benefits Plan, "that shall be deemed to be fraud".   We first exposed this information in this article.
Mr. Williams owes the treasurer an apology and the public a resignation for such gross incompetence and arrogance in a public meeting.
For those that missed it, the County Insurance Committee of Teresa Boehm and Bryon Coffman voted to do nothing to recover these funds.  They too should resign for failing to protect the taxpayers. We covered their actions in this article.